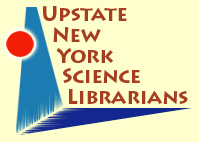 Document Type
Presentation
Keywords
biopharmacology, scholarly
Disciplines
Library and Information Science
Description/Abstract
At St. John Fisher College, Biopharmacology is an upper level elective taken by chemistry, biology and pharmaceutical chemistry majors. The final project for class was a poster, and students were encouraged to use resources beyond the scholarly article. The science librarian was embedded into the class and had 10 weekly, online assignments with students. The library content for each week focused on a scholarly resource that matched the course curriculum. The goal was to expose students to information sources like the FDA, AHRQ, NIH, and the CDC as well as introduce different information types like, clinical trial study results, new drug approval letters, and clinical practice guidelines. The science librarian collaborated with the faculty member to create meaningful content connections and to provide feedback to students in a timely and sustainable manner.
Recommended Citation
Price, Michelle "Step Aside Journal Article: Scholarly Source Application in a Biopharmacology Class" (2019). Upstate New York Science Librarians Conference.
Creative Commons License


This work is licensed under a Creative Commons Attribution 4.0 License.