BEADS: Journal of the Society of Bead Researchers was initiated in 1989 to encourage and publish scholarly research on beads and beadwork of all materials and periods from around the world. Researchers are invited to submit scholarly articles on practically any topic that involves beads, especially from an archaeological or ethnographic context. [More]
Full text is available for volumes one (1989) through six (1994) and select others. Titles, tables of contents, and abstracts are available for all volumes (1989-present).
Back issues of the journal not presently available on this site are available for purchase. Visit the SBR website for details.
Current Volume: Volume 28 (2016)
Full Issue
Front Matter
Articles
End Matter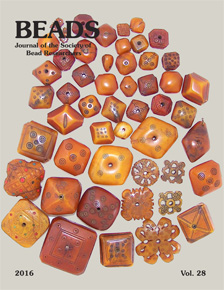 Officers for 2016
President:

Stefany Tomalin

Secretary/Treasurer

Alice Scherer

Editor

Karlis Karklins
Committees
Editorial Advisory
Laurie Burgess, chair

Christopher DeCorse

Marvin T. Smith
Publications
Karlis Karklins, chair

Margret Carey

Alice Scherer