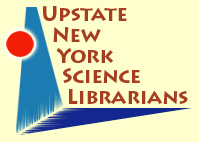 ORCID
Susan Cardinal: 0000-0002-9267-8235
Document Type
Presentation
Keywords
LabArchives, electronic notebook, software, STEM
Disciplines
Library and Information Science
Description/Abstract
During the summer of 2023, librarians at the University of Rochester encouraged use of the LabArchives for Education module by introducing it to librarians and faculty. We did an environmental scan of the literature and the vendor website to glean benefits and challenges of using this tool. All liaison librarians were encouraged to get accounts and play with the tool. We started hosting vendor provided webinars and inviting discussion. I'll share the process and results of our efforts.
Recommended Citation
Cardinal, Susan K. and Owen, Heather, "LabArchives, Electronic Lab Notebook for Modern Scientists" (2023). Upstate New York Science Librarians Conference. 118.
https://surface.syr.edu/nyscilib/118
Creative Commons License


This work is licensed under a Creative Commons Attribution 4.0 International License.