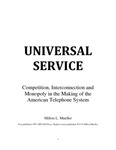 Files
Download Introduction (54 KB)
Download Universal Service: A Concept in Search of a History (84 KB)
Download A Theory of Access Competition (207 KB)
Download Prologue: Telephone Development Before Competition (120 KB)
Download Access Competition Begins: Legal and Economic Rationales for Non-Connection (152 KB)
Download The Dynamics of Access Competition (282 KB)
Download Dual Service: The Anatomy of Subscriber Fragmentation (131 KB)
Download Universal Service: Vail's Answer to Dual Service (287 KB)
Download The Power of Interconnection, 1908-1913 (181 KB)
Download Saving Dual Service? The Kingsbury Commitment (96 KB)
Download The Subtle Politics & Economics of Unification, 1914-1921 (135 KB)
Download The Legacy of Access Competition (142 KB)
Download Universal Service Reincarnated (162 KB)
Download Universal Service in the 1990s (143 KB)
Download Conclusion (61 KB)
Keywords
telephone system, universal service, Bell Telephone System
Disciplines
Business | Communications Law | Industrial Organization
Description
This book, based on years of archival research at the AT&T/Bell Labs in the aftermath of the divestiture, was originally published in 1997 as part of the MIT Press/AEI Series on Telecommunications Regulation. Acclaimed by reviewers such as Lawrence Lessig as "extraordinary" and "a crisply written mix of history and clear theory," the small press run was sold out by 2002. Nevertheless, every year I encountered people who asked where they could get copies. The AEI series had long come to an end, its funds gone and its editorial team disbanded, making a new press run all but impossible.
It was when I saw Amazon offering used hardcover copies of the book for $249.00 that I decided something had to be done. I seized the opportunity presented by the negotiation of a contract for my then-new book Networks and States: The Global Politics of Internet Governance to reclaim the copyright for Universal Service. I decided to make it available as an open ebook through the Syracuse University SUrface. But since I possessed neither the original galleys nor my manuscript in computerized form, the ebook had to be created almost from scratch, by scanning a printed manuscript, converting the resulting pdf file into a Word document, and then engaging in a lot of manual labor to improve the format and fixing all the conversion errors and typos. It took some time to do this. I would like to thank Natasha Cooper, Yuan Li of the Syracuse University Library and Chubing Hong, a Master's student at the iSchool, for their dedicated help in making that happen!
Here, with only a few copy editing revisions, is the 'shiny' new digital version of Universal Service: Competition, Interconnection and Monopoly in the Making of the American Telephone System.
All rights reserved by Milton L. Mueller 2013.
Recommended Citation
Mueller, Milton, "Universal Service: Competition, Interconnection and Monopoly in the Making of the American Telephone System" (2013). Books. 18.
https://surface.syr.edu/books/18
DOI
http://dx.doi.org/10.14305/01-00.bk.2013.1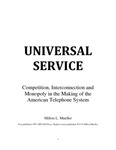 COinS