Preview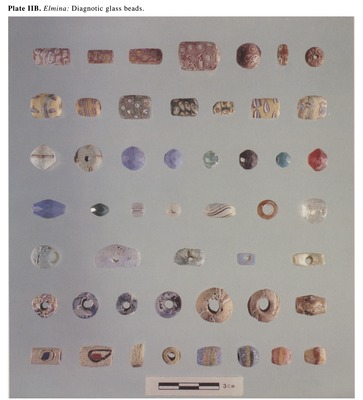 Description
Elmina: Diagnostic glass beads:
R.1-2; R.3, #1,2: 19th-century wound beads.
R.3, #3-8: 19th-century mandrel-pressed beads.
R.4, #1,2: 19th-century moulded beads.
R.4, #3-7: pre-19th-century bead varieties.
R.5: imported beads and glass shards modified locally.
R.6, #1-4: beads manufactured from glass chips.
R.6, #5-7; R.7, #1,2: powdered-glass beads with glass-chip and trailed-glass decoration.
R.7, #3,4: 19th-century non-European wound beads.
R.7, #5-8: 20th-century powdered-glass beads.
Photo by R. Chan and K. Karklins.