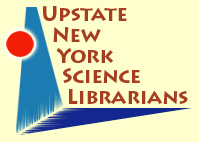 Keywords
reference, landscape, service, desk, library
Disciplines
Library and Information Science
Description/Abstract
This project examined and assessed reference services at Albert R. Mann Library following the creation of a combined service desk. I conducted a literature review and created a survey to determine what mode of research help patrons preferred. Survey respondents were fairly evenly split between their preferences and often stated the same reasons for their preference- convenience and accessibility. Recommendations include instituting a user experience team and training all access services employees on reference techniques and library resources. This will provide patrons with more accurate answers to their questions and continue to improve library services.
Recommended Citation
Tolnay, Ryan "The Changing Reference Landscape: An Assessment of Mann Library's combined Service Desk " (2019). Upstate New York Science Librarians Conference.
Creative Commons License


This work is licensed under a Creative Commons Attribution 4.0 License.