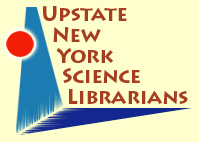 Document Type
Presentation
Keywords
resorces, discovery, naval, nuclear, library, laboratory
Disciplines
Library and Information Science
Description/Abstract
This presentation will have a brief introduction to the Naval Nuclear Laboratories, and its library's document delivery service. The presentation will then focus on useful online resources to locate technical reports, standards, and naval instructions, focused on the topics of engineering and nuclear physics. The presenter will posit the audience for additional resources they have found useful.
Recommended Citation
Jenks-Brown Angelique "Resources on the Fringes of Discovery" (2019). Upstate New York Science Librarians Conference.
Creative Commons License


This work is licensed under a Creative Commons Attribution 4.0 License.