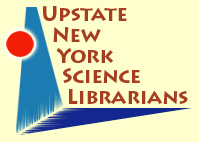 Document Type
Presentation
Keywords
undergraduate, publishing, instruction
Disciplines
Library and Information Science
Description/Abstract
Undergraduate biology students at St. John Fisher College have several opportunities to engage with the concept of Scholarly Publishing and consequently three different frames from the Framework for Information Literacy for Higher Education; Information Creation as a Process, Information Has Value, and Scholarship as Conversation. This is accomplished at three different points in the biology undergraduate curriculum. First, all students enrolled in general biology complete an exercise on open access, article processing charges, submission styles and other author instructions for several different publications. Then, there are two separate opportunities for upper level students; advanced anatomy and the Summer Science Fellows program. Advanced anatomy focuses on the scholarly book, while the Summer Science Fellows program asks students to reflect on publishing issues like acknowledgement versus authorship and copyright transfer agreements. By creating activities that tie directly to the classroom curriculum, students are introduced to concepts at the point of need and with surrounding context. Utilizing asynchronous online technology allows upper level students to more deeply engage with topics, without requiring face-to-face time in a lecture or lab. Student reflections have shown that this deeper exposure to scholarly publishing is a welcome addition to the curriculum.
Recommended Citation
Price, Michelle, "Scholarly Publishing: Instruction for Undergraduate Students" (2016). Upstate New York Science Librarians Conference. 77.
https://surface.syr.edu/nyscilib/77
Creative Commons License


This work is licensed under a Creative Commons Attribution 3.0 License.