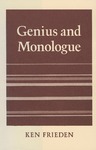 Title
Files
Download Cover and Contents (1.3 MB)
Download Preface (1.2 MB)
Download Abbreviations of Classical Works.pdf (142 KB)
Download Introduction (4.2 MB)
Download Chapter 1: Greek Gods, daimon, and Socrates' daimonion (10.1 MB)
Download Chapter 2: Hebrew Angels, satan, and Philo's logoi (8.2 MB)
Download Chapter 3: The Eighteenth-Century Introjection of Genius (8.1 MB)
Download Chapter 4: The Transcendence of Monologue (11.7 MB)
Download Chapter 5: Pre-Shakespearean and Shakespearean Soliloquies (8.8 MB)
Download Chapter 6: Coleridge's Conversational Pretense (8.0 MB)
Download Chapter 7: Poe's Narrative Monologues (6.5 MB)
Download Chapter 8: The Genius of Internal Monologue (8.7 MB)
Download Conclusion (2.6 MB)
Download Selected Bibliography (4.0 MB)
Download Index (2.6 MB)
Keywords
Philosophy of genius, literature of monologue
Disciplines
Cultural History | History of Religion | Other Philosophy
Description
"Genius is the intellectual obsession of our time," Ken Frieden writes, "and monologue is one symptom of the disorder." From ancient, spiritual conceptions of genius to modern notions of the extraordinary mind, Frieden traces associated philosophic and literary expressions of inspiration and individuality.
Frieden juxtaposes the evolving forms of genius with traditions of monologue in pre-Shakespearean and Shakespearean drama, Romantic poetry, and nineteenthand twentieth-century fiction. He delineates the linguistic mechanisms that have shaped the dominant ideology of genius, showing that while literary monologues typically break the conventions of dialogue, aethetics ultimately identifies originality with deviance and madness. The successive guises of genius have gradually displaced divine intervention, and language has usurped the role of external inspiration.
Ken Frieden's provocative and wideranging study revises some traditional assumptions of literary theory and intellectual history and sheds light on the fictions of divinity and subjectivity in literature. It will interest scholars and students of literary theory as well as comparativists, intellectual and literary historians, and philosophers.
Recommended Citation
Frieden, Ken, "Genius and Monologue" (1985). Books. 12.
https://surface.syr.edu/books/12
Publisher
Cornell University Press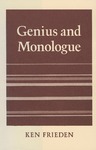 COinS